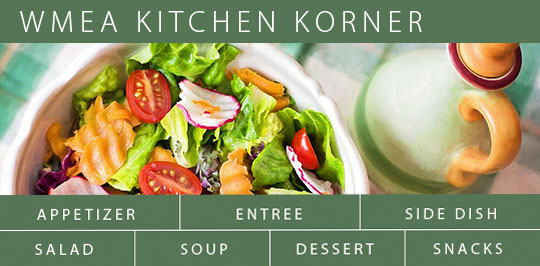 Curried Cauliflower Recipe
(Adapted from Asparagus to Zucchini)
Ingredients:
1 tbsp olive oil
1 large onion, diced
1 tsp curry pwd
½ tsp turmeric
½ tsp cardamom
½ tsp garam masala
Pinch cloves
1 head cauliflower, cored, cut into bite-size pieces
(you can also substitute 6 red potatoes, 6 medium carrots, 4 small zucchini and some green beans instead of the cauliflower)
1 can coconut milk
Directions:
Heat a large skillet on Med/High. Add the olive oil and let it heat. Reduce heat to medium, add the onion and saute til golden, 8-10 min. Add the spices and stir for a minute. Add the cauliflower, coconut milk. Cover and let cook, stirring occasionally, until the cauliflower is very tender, about 15 – 25 min. Adjust the seasonings. Stir in the cilantro and serve.
---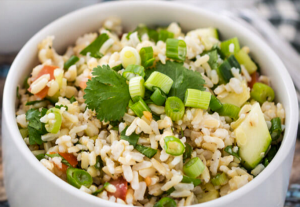 Basmati Rice Salad
2 cups water
1 cup uncooked basmati (or jasmine) rice
1 cup finely chopped zucchini
1 cup finely chopped cucumber
1 cup finely chopped tomatoes
1 cup snipped fresh cilantro
1/2 cup finely chopped green onions
3 to 4 Tbsp lemon juice
21 Seasoning Salute to taste (optional)
1/4 tsp freshly ground black pepper
Sea salt, to taste
Cook your rice. Remove from heat. Transfer your rice to a large bowl; cool slightly
Stir zucchini, cucumber, tomatoes, cilantro, green onions, 3 Tbsp. Of the lemon juice, 21 Seasoning Salute to taste (optional) and the pepper into rice.
Season with salt and, if desired, additional lemon juice. Cover and chill at least 1 hour or let stand at room temperature 30 minutes to allow flavors to blend.
To Store: Seal in an airtight container and store in the refrigerator up to 5 days.
Recipe from Forks Over Knives magazine
---
Avocado Toast
(Adapted from Forks Over Knives)
6 slices whole grain bread, toasted
1 Hass avocado, halved, seeded, peeled, and cut into six wedges
2 medium ripe tomatoes, thinly sliced
1 1/2 cups thinly sliced cucumber
1 large thinly sliced sweet onion (optional)
1 to 2 cups baby romaine lettuce or spinach
1/2 to 2/3 cup fresh alfalfa sprouts (optional)
Salad herbs (from Trader Joe's)
Sea salt and freshly ground black pepper, to taste
2 TBsp lemon juice
Spread each toasted bread slice with an avocado wedge. Top with tomato, cucumber, lettuce and, if desired, the sprouts. Sprinkle with salt and pepper and drizzle with lemon juice.
Serve immediately.
---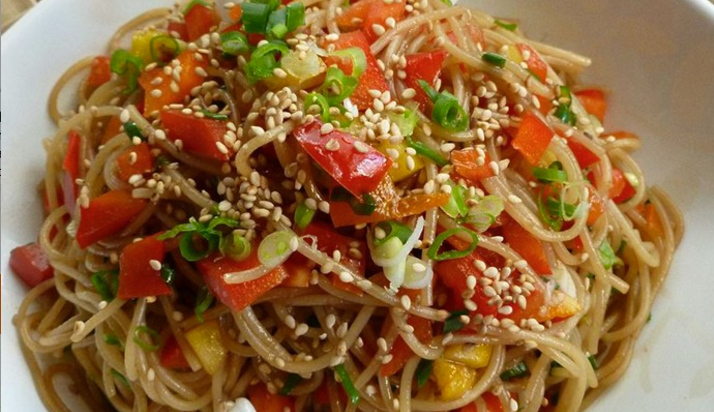 Sesame Noodle Salad
Ingredients
salt
1 pound spaghetti (thin works best)
2 Red bell peppers (cored, seeded and sliced thin)
6 scallions (sliced diagonally including the green)
3 Tablespoons parsley (chopped fresh leaves)
1 pound sugar snap peas
1/2 cup peanut butter (smooth)
4 tablespoons toasted sesame seeds
2 garlic gloves (minced)
1 teaspoon ginger (fresh grated)
2 tablespoons honey (mild tasting such as orange blossom)
3 tablespoons dark sesame oil
1/3 cup soy sauce
1/4 cup rice wine vinegar
1 cup vegetable oil
Directions
Cook spaghetti in salted water according to package directions, drain and set aside. Bring another large pot of salted water to a boil, add the snap peas, return to boil and cook for 5 minutes, until crisp but tender. Lift snap peas out with slotted spoon and immediately place them into a bowl of ice water then drain. In a medium bowl whisk together vegetable oil, rice wine vinegar, soy sauce, sesame oil, honey, garlic, ginger, 3 tablespoons toasted sesame seeds and peanut butter.
In a large bowl combine spaghetti, snap peas, peppers, parsley and scallions. Pour dressing over the spaghetti mixture and toss? Add the remaining 1 tablespoon sesame seeds over top of salad.
Enjoy!
---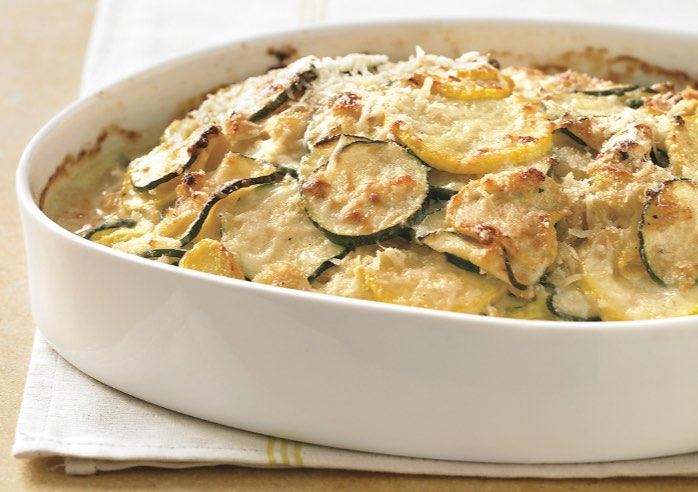 Yellow and Zucchini Squash Gratin
Ingredients
2 tablespoons salted butter
2 yellow squash (medium size, sliced diagonally 1/4 inch thick)
2 Zucchini squash ( medium Approx. 7oz each, sliced diagonally 1/4 inch thick) 3 shallots (minced)
2 garlic cloves (minced)
Ground pepper and course salt
1 cup heavy cream
1 cup Panko bread crumbs
1 cup grated Parmesan cheese
Directions
Melt butter in a large skillet, add yellow squash, Zucchini, shallots and garlic, season with salt and pepper. Cook stirring occasionally, until squash is crisp-tender approx. 4-6 minutes.
Add cream and cook until thickened, approx. 5 minutes. Remove skillet from heat, stir in 1/2 of the Panko bread crumbs and 1/2 of the Parmesan.
Spoon mixture into a 2 quart baking dish (shallow pan). Sprinkle with remaining Panko and Parmesan, season with salt and pepper. Bake in 450 degree oven until top is golden, approx. 8-10 minutes.
---