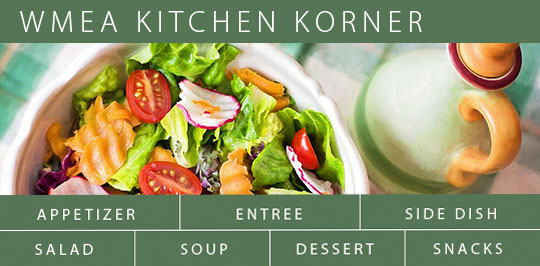 Vegetable Frittata
(adapted from The Whole Life Nutrition Cookbook)
Ingredients:
2 cups grated potato, about 1 large baking potato
½ tsp sea salt
2 tsp organic butter
1 small onion, diced small
2 cloves garlic, chopped fine
2 handfuls of spinach
½ can artichoke hearts (chopped)
5-6 sundried tomatoes soaked and chopped
1 ½ tsp dried thyme
½ tsp black pepper
½ tsp salt (or more to taste)
6 organic eggs, lightly beaten
½ cup grated raw organic jack cheese
Fresh basil (chopped)
Directions:
Preheat oven to 375 degrees F
Place the grated potato into a small bowl with the sea salt. Let rest for about 10 min. Then squeeze out the excess water. Oil a 9 inch deep dish pie plate with olive oil or butter. Place grated potato into the pie plate and press evenly into bottom of dish.
In a med skillet heat the 2 tsp butter, add diced onion and garlic and saute over med heat until soft, about 5 min.
Add other veggies and cook until spinach is wilted. Add spices and mix well. Adjust seasonings to taste.
Pour veggies on top of potato.
Mix cheese and eggs in a bowl and pour over veggies in oven dish.
Sprinkle the top with extra grated cheese if desired. Place into the preheated oven and bake for 30 – 40 min or until eggs are cooked through.
---
Black Bean & Quinoa Enchilada Bake
(adapted from online site www.twopeasandtheirpod.com)
Ingredients:
1/2 cup uncooked quinoa, rinsed
1 cup water
1 tbsp olive oil
1 small onion (diced)
3 cloves garlic, minced
1 cup organic corn frozen kernels
Juice of 1 lime
3 tsp ground cumin
1 tbsp chili powder
1/3 cup chopped cilantro
Salt & pepper to taste
2 cans black beans, drained and rinsed
2 cups red enchilada sauce
2 cups shredded Mexican cheese
Tortillas
Directions:
Preheat the oven to 350 degrees F. Grease a 9×13 backing dish and set aside.
Add quinoa and water to a med saucepan and bring to a boil over medium heat. Boil for 5 min. Turn the heat to low and simmer for about 15 min, or until water is absorbed. Remove from heat and fluff with a fork. Cover quinoa and set aside.
In a large skillet, heat the tablespoon of olive oil over medium-high heat. Add the onion, garlic and saute until softened, about 5 min. Add in corn. Cook for about 3-4 min. Add the lime juice, cumin, chili powder, and cilantro. Stir to combine. Season with salt and pepper to taste.
Mix quinoa with veggies. Use as much of the quinoa as you like. Save the rest for another time.
In 9x 12 pan layer: tortillas; enchilada sauce, veggies & beans, cheese.
Bake 20 minutes covered and 10 minutes without the cover.
---
Mediterranean Quiche
Recipe courtesy of Emeril Lagasse
Total time: 1 hour 30 minutes Yield: 6 servings
Prep: 30 minutes
Cook: 1 hour
Ingredients:
2 tablespoons unsalted butter
1 cup sliced yellow onions
1 medium zucchini, chopped
¼ pound mushrooms, wiped clean and sliced
1 teaspoon minced garlic
4 ounces oil-packed sun-dried tomatoes, drained and chopped
3 tablespoons chopped fresh basil
2 teaspoons chopped fresh thyme
½ teaspoon salt
¼ teaspoon freshly ground pepper
3 large eggs
1 ¼ cups half-and- half
½ cup grated Gruyere
½ teaspoon crushed red pepper
3 ounces goat cheese, crumbled
Pie crust of your choice
Directions:
Preheat the oven to 375 degrees F.
In a large skillet melt the butter over medium-high heat. Add the onions and zucchini and cook, stirring, for 6 minutes. Add the mushrooms and cook, stirring, until the liquid is rendered and the vegetables are wilted, about 10 minutes.
Add the garlic and cook for 1 minute.
And the tomatoes, basil and thyme and season lightly with salt and pepper. Cook, stirring, for 1 minute. Remove from the heat and let cool.
In a bowl, beat the eggs and half- and-half together. And the salt, pepper, grated Gruyere, and crushed red pepper.
Spoon the vegetable mixture into the prepared piecrust, pour in the egg mixture, and crumble goat cheese on top. Bake for 25 to 30 minutes until set. (High altitude 40 -45 minutes)
Remove from oven and let cool for 30 minutes before serving.
---
EGGPLANT PARMIGIANA
1 large eggplant, about 1-1/2 pounds
2 beaten eggs
1 to 1 ½ C. Italian bread crumbs
Extra virgin olive oil
1 lb. Mozzarella whole milk cheese, sliced
½ C. fresh grated Parmesan cheese
2 – 10 oz. jars of your favorite marinara sauce
Wash, peel eggplant and cut crosswise in ½ inch slices.
Dip into eggs, coat with seasoned bread crumbs, place on platter and refrigerate at least ½ hour.
Heat about 1/8 inch olive oil in skillet.
Fry eggplant on both sides until golden brown and crisp.
Drain on paper towel.
Spread 1/3 of sauce in greased 9" x 12" baking dish.
Layer half of the eggplant, half of the mozzarella, a third of the sauce and half of the Parmesan. Repeat layers.
Bake in preheated 350 degree oven for 30-45 minutes.
---